We have very strong links with St John the Evangelist Catholic Church in Bridgnorth.
Father Iain Griffiths regularly attends school to lead the children in worship, and the children take part in many services at church throughout the year including Advent and Palm Sunday.
Parents, Grandparents and Parishioners are always most welcome to join us in our Mass in school.
Every Monday throughout the school year, each Class takes it in turns to  attend St John's Church for  Mass with the local community.
All families receive a copy of the "Wednesday Word" which delivers the Sunday Gospel through School every Wednesday.
Children have an annual retreat day which is delivered by Dan and Emily from One Life Music http://www.onelifemusic.co.uk/ https://twitter.com/danonelifemusic
Our Faith Council supports Mrs Buzzing and staff in Liturgy & Liturgical Prayer throughout school and meet regularly to discuss new ideas.
Pupils from Year 3 and children from the parish are supported in their preparations for their First Holy Communion which takes place in June each year.
School collaborates with the Catholic schools from Telford and Wrekin and Shropshire and we have held Staff retreat days here at St John's.
Annually, Year 6 pupils attend a "Cathedral Day Mass" at Shrewsbury Cathedral where they take part in a celebration of their achievements and look forward to moving onto a new stage in their lives. On the same day, all Catholic Schools then join together for a picnic and games.
Useful links:
Diocese Website www.dioceseofshrewsbury.org
Wednesday Word www.wednesdayword.org
Catholic Education Service www.ces.eteach.com/vrf/diocese.asp?cesdId=20
Catholic Herald www.catholicherald.co.uk/section/catholiclife/
Planting a Cherry tree to mark Holocaust Memorial Day 2023.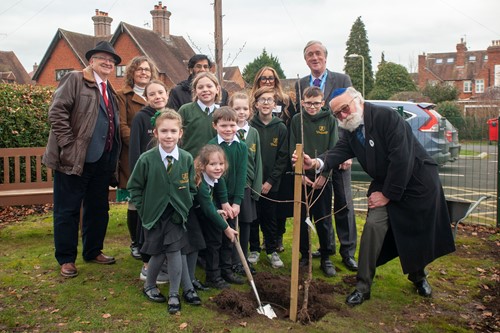 A cherry tree was planted by schoolchildren in Bridgnorth on Friday 27th January 2023, to mark Holocaust Memorial Day. Members of the South Shropshire Interfaith Forum and the Shrewsbury Interfaith Forum took part in special assemblies with Councillor Christian Lea and Councillor Kirstie Hurst-Knight, in whose ward the school is located, before planting the tree. This brings to sixteen the number of such trees now growing across Shropshire.
Other pages in this section

: